Yay!!! It's time for another BLOGGER MEET AND GREET FRIDAY!
Here's Kelley's interview!
...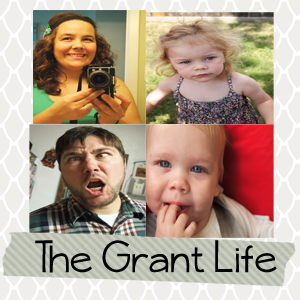 Why you started your blog and keep blogging on your blog? - I started my blog after I had my son in April 2011. I wanted to share my labor and delivery stories and have other moms share theirs. I keep blogging because its something I love and I am relatively good at it.. on a good day. haha.
What keeps you happy? The blessings that the Lord gives me every. single. day. I am blessed to have a husband that works hard and allows me to stay home with our babies. I am blessed to have babies make me smile and laugh and giggle all day long. And Im blessed to have such a great online community of friends.
What is your blog about? I share my crafts, recipes, labor and delivery stories and our life with two kiddos.
What do you love? I love my God, my family and my friends.
What is the prettiest place you've ever been? Northern Michigan is the most gorgeous place in the whole world. Seriously.
Here's Chas!
...
Why did I start blogging?
I started blogging almost 3 years ago when we bought our home. I have always loved doing projects and decorating around my home. A Woman's Haven gave me a place to share my projects and other things that inspired me.
Why do I continue blogging?
Because I love it! It is a creative outlet for me. It also pushes me to not get into too much of a slump when completing things around our house. If I am working on something that I am excited about sharing on A Woman's Haven then I am more likely to put more time into the project to complete it sooner. I also love sharing photographs and snapshots of our life.
What keeps me happy?
My family! We live in a small community with a great network of supportive friends and family. Having such a great circle of people surrounding me, makes me happy.
A few of my other HAPPY things:
Baby Smiles
Clean & organized house
Morning coffee
Kisses goodnight
Mom/Son Day
Mom/Daughter Day
Creating
Photography
What is my blog about?
My blog is about making my home a haven for me and my family. I share glimpses of our life through photographs and projects.
What do I love?
I would say the same things that make me happy are what I love.
Where is the prettiest place you have ever been?
I haven't really traveled a whole lot in my lifetime so my choice in places is pretty limited, I do love spending time on the beaches of Lake Michigan and think they are beautiful. I try to savor everyday moments so I see and experience many pretty things throughout a day.
...
Be sure to follow Chas!!!